For Writers
Writing Classes with Kelly Yang - New York Times Bestselling author Kelly Yang is hosting writing classes on her Instagram live every Monday, Wednesday, and Friday at 12pm PST. Missed a lesson? Don't worry! She has them all archived on her website.
Live From the Write Cave - Join Lamar Giles, author of Not So Pure and Simple, on his Instagram Live every Wednesday at 11am PST for an AMA-style chat about writing, books, and life, and every Friday at 11am PST for live book chats with various guest authors!
Read-alouds & Activities from Jacqueline West - on her website, Jacqueline West is reading passages from some of her books and sharing writing activities to keep you inspired. She's the author of the NYT bestselling middle grade series The Books of Elsewhere, the YA novel Dreamers Often Lie, the middle grade fantasy The Collectors, and the new YA novel Last Things.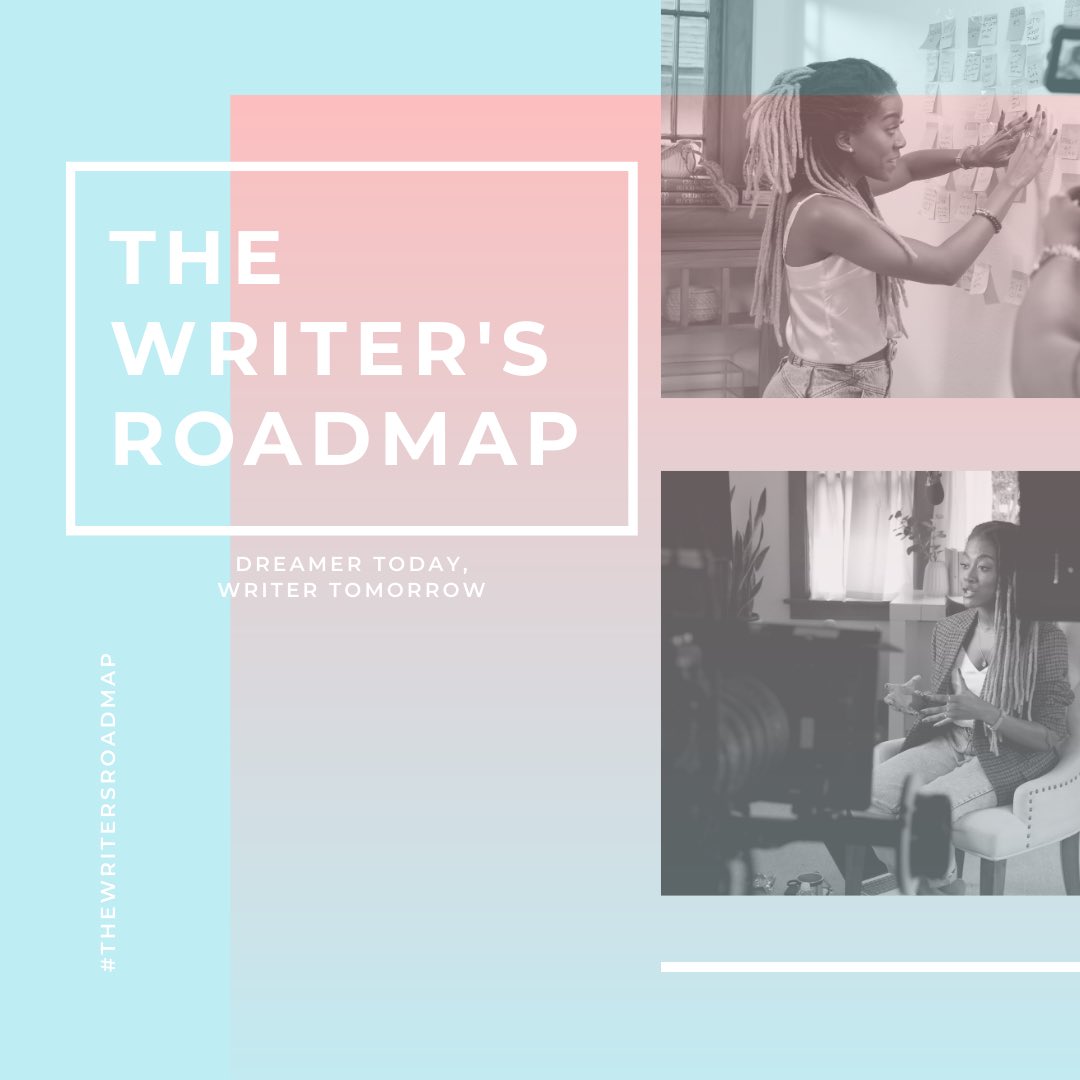 The Writer's Roadmap Challenge - Tomi Adeyemi, award-winning author of Children of Blood and Bone and Children of Virtue and Vengeance has offered a week-long writing challenge on The Writer's Roadmap Instagram page that's designed to help you get your story ideas ready to be turned into a fully fledged novel! Give it a shot, and check out her website for more details.
---
#BookLife
Epic Reads - the website best known for their reviews of upcoming YA books, themed reading lists, fun YA book quizzes and awesome giveaways is now offering a new form of digital content while we all practice social distancing. Join them every Wednesday on Twitter & every Friday on Instagram at 1pm PST for virtual content from YA authors & Epic Reads staff. You can also check out their YouTube channel for even more great bookish content!

---
Get Up, Get Moving!
Yoga with Adrienne - YouTube channel offering free, high-quality guided yoga videos. If you're brand-new to yoga, check out her Yoga for Beginners and Foundations of Yoga playlists. They're designed to give you the tools to build a happy, healthy at home yoga practice. If you're ready to work up a sweat, try the Total Body Yoga playlist!
---
Learn to Code
Code.org - FREE coding classes for students of all ages. Learn to program while completing online modules.
Vidcode - Register for an account here to attend Vidcode's twice-weekly virtual coding club, every Tuesday and Thursday at 12pm. You'll learn to code video games, Snapchat filters, special effects, and more! You can also do the lessons on your own, and work at your own pace, if you prefer to work solo.
---
Listen to Free Live Concerts
Live Music Archive - Want to enjoy a musical performance without having to leave the house? This archive contains thousands of concert recordings for hundreds of artists. You can explore Smashing Pumpkins, Maroon 5, Death Cab for Cutie, John Mayer, and more. If wizard rock is more your style, they also have several concerts form Harry and the Potters. Take a look and see if any of your favorite artists are in here!
---
Comics Galore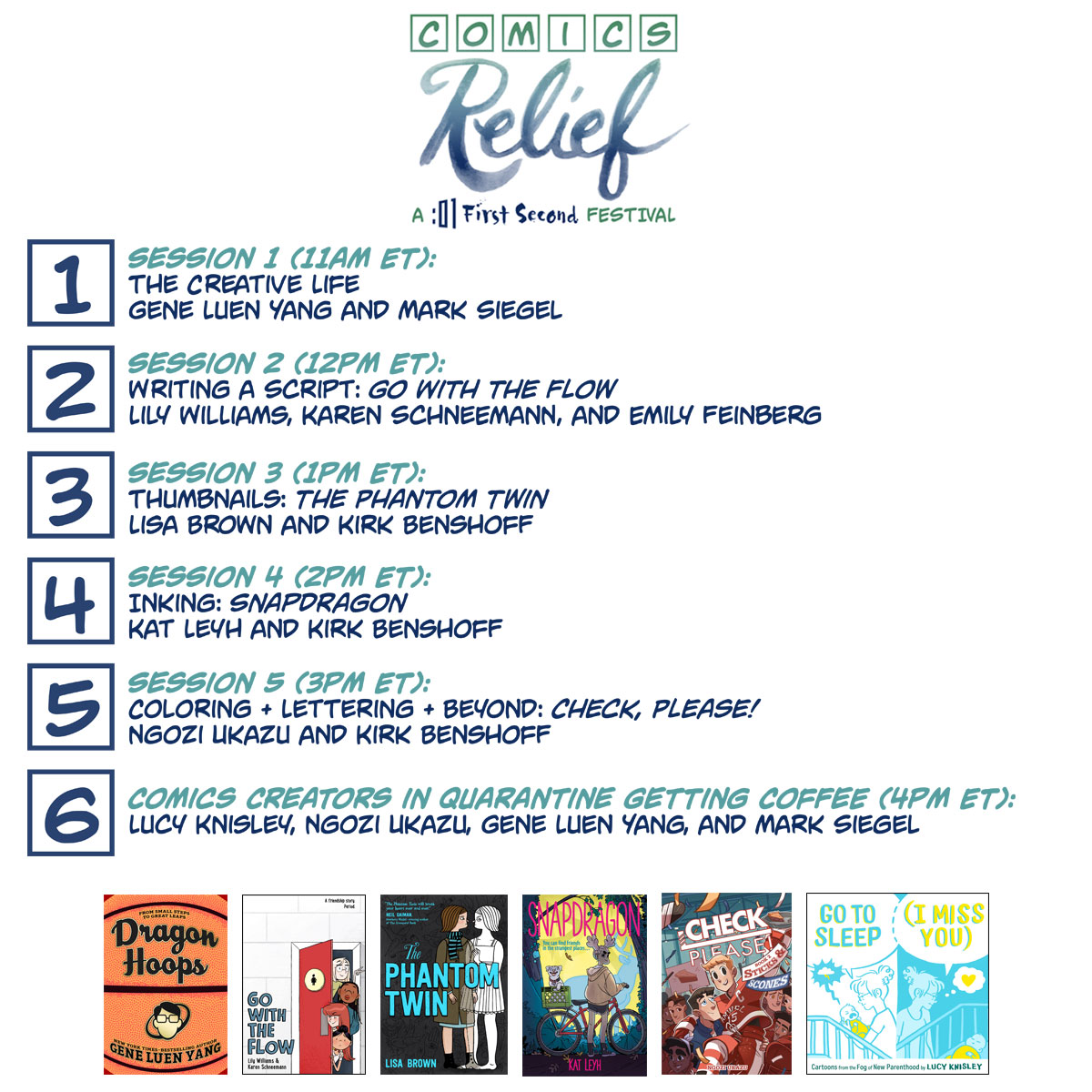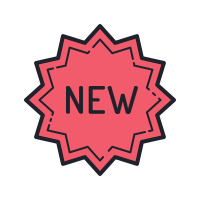 Comics Relief Festival - April 18, 2020
Love comics? Check out this free online comic festival brought to you by First Second! Get an in-depth look at the key moments in comic creation, and hear from awesome comic authors like Gene Luen Yang, Lucy Knisley, & Ngozi Ukazu!
Webcomic Recommendations

For Middle Grades
Audrey's Magic Nine: Written by Michelle Wright and illustrated by Courtney Huddleston, Francesco Gerbino, and Tracy Bailey, this webcomic, now a series of graphic novels published by Farthing Press, centers on a black orphan adopted by a well-meaning but clueless suburban white couple.
Breaking Cat News: House cats Elvis, Puck, and Lupin report on such breaking news stories as "The people are missing!" and "There's a box with a towel inside it on the kitchen table." Georgia Dunn's hilarious webcomic, with its feline's-eye view of the world, is also being published by Andrews McMeel as a series of graphic novels.
Cucumber Quest: In GiGi D.G.'s video game–esque tale, adorable Cucumber the bunny and his sister Almond go up against a series of baddies. A vibrant palette, nonstop action, and a bizarre cast of friends and foes make for immersive reading. Also available as a series of graphic novels by First Second.
Ozy & Millie: Two anthropomorphic foxes navigate the world in this sweetly snarky webcomic, now a graphic novel published by Andrews McMeel, by Dana Simpson, creator of the best-selling "Phoebe and Her Unicorn" series.
Scared by the Bell: Though being the new kid is never easy, it's especially hard for Peter, an average kid whose classmates include a mummy, a pumpkinhead, and a skeleton. Creator Dylan Campbell updates this hilariously creepy webcomic every week.
Wormworld Saga: Still reeling from the loss of his mother, Jonas escapes into his vivid daydreams. After making his way through a portal in his grandmother's strange painting, he finds himself lost in a fantasy world, unable to return. Daniel Lieske's arresting comic series has also been published in print format by Lion Forge.
For High School
As Per Usual: Dami Lee's self-deprecating webcomic details her quest "to be a real lady person," from dating woes to FOMO in the age of social distancing.
As the Crow Flies: Two outsiders endure microaggressions on a Christian backpacking trip and find solace in each other. Melanie Gillman's contemplative, poignant webcomic was published as a graphic novel by Iron Circus Comics and won a Stonewall Honor in 2018.
Bird and Moon - Science and Nature Comics: Whether naturalist and science writer Rosemary Mosco is describing how to distinguish a dolphin from a porpoise, offering improvements on bird species (like hummingbirds that are 10,000% bigger), or urging readers to join the fight against climate change, her abiding passion for the natural world comes through loud and clear in this delightfully quirky webcomic.
Check, Please!: When a happy-go-lucky former figure skater joins his college hockey team, hilarity ensues, but so do lasting friendships and even a burgeoning romance between protagonist Bitty and team captain Jack.
Cheshire Crossing: What became of Alice, Wendy Darling, and Dorothy Gale after they returned from Wonderland, Neverland, and Oz? Though few believed their stories, the three girls meet and find kinship in one another. Andy Weir and Sarah Andersen's enchanting webcomic–turned–graphic novel (published by Ten Speed) will inspire readers to write their own fan fiction.
DeadEndia: Hamish Steele's webcomic centers on an amusement haunted house with a mysterious portal that entices demons, ghosts, and angels.
Deep Dark Fears: Fran Krause creates mordantly funny yet tender comics based on emails submitted by readers detailing the absurd but deeply resonant fears that plague them (What if, while walking over me in bed, my cat steps on both my eyes? What if, when I take off my goggles, the suction yanks out my eyes?).
(H)afrocentric: Now a graphic novel series, this raw, deeply funny, provocative webcomic from Juliana "Jewels" Smith, Ronald Nelson, and Mike Hampton follows a black revolutionary college freshman and her friends dealing with racism, gentrification, and privilege at Ronald Reagan University.
Heartstopper: Since 2016, Alice Oseman has been chronicling the burgeoning romance between Nick and Charlie, two secondary characters from her prose novel Solitaire. Her sweet, manga-flavored tale will be published in graphic novel form by Scholastic next month!
Homestuck: Andrew Hussie's wildly popular webcomic follows John Egbert, who on his 13th birthday plays a video game that unleashes the apocalypse. Aso available in print from Viz Media.
On a Sunbeam: Tillie Walden's mesmerizing, strikingly original space epic seamlessly blends romance and sci-fi.
Space Boy: To make the long trip back home to Earth from a mining colony deep in outer space, Amy and her family must be cryogenically frozen, and when Amy returns, her friends are far older, and she's not sure where she fits in. With fluid linework and a pitch-perfect palette, this tender webcomic from Stephen McCranie, now published by Dark Horse as a graphic novel series, is ideal for sci-fi readers and newcomers to the genre alike.
Witchy: Ariel Slamer Ries's webcomic, now published in graphic novel format by Lion Forge, takes place in the magical world of Hyalin, where witches' magic depends on the length of their hair. But revealing one's power can be perilous.
---
Fandom & Cosplay
Craftchella - streaming live on Twitch April 3 - April 5, "Craftchella" will feature 60+ hours of livestreamed cosplay content, including workshops, panels, and roundtables from some amazing creators! Check out the pics below to scope out the guest list. Who are you excited to see and learn from?!



Evolution of Fantasy series

- Brought to you by EpicReads, this series of short animated features is all about the evolution of the fantasy genre as we know it. F

rom writer influences to dragons in our folktales to Harry Potter vs. Twilight to the wheel of adaptation, watch to see how the genre has changed over the years and how, at its heart, fandom kept these stories going.



---
For Harry Potter Fans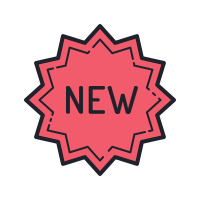 Harry Potter at Home - wizards and witches in confinement will love these Harry Potter-related activities and free downloads! Through April, users can also get free audiobook and ebook versions of Harry Potter and the Sorcerer's Stone! Crafts, quizzes and other activities will be made availalbe on the hub and through a newsletter, all updated weekly on "Wizarding Wednesdays."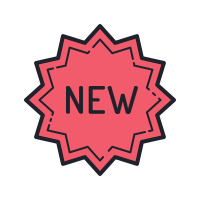 Hogwarts is Here: Take Classes at Hogwarts!
Created and run by a group of passionate, creative Potterheads, this is a fully-functioning online Hogwarts where you can meet other fans, participate in online courses, earn House Points and so much more! When you sign up, you choose your character (or use your own name) and pick a house. From there, you can join or make a dorm based on your house where you can socialize with your own prive group of classmates. If you don't want to be a student, you can be a House ghost, auror, magical creature expert, or literally any other occupation you want while indulging in the texts from the Hogwarts library!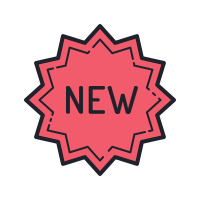 Harry Potter Digital Escape Room - made by staff at the Peters Township Public Library in McMurray, PA, this awesome digital escape room will have you watching clips from the Harry Potter movies, answering trivia, solving puzzles, and more!
---
For Gamers
MS-DOS Games on the Internet Archive - this collection includes dozens of classic favorites like Pac Man, Sim City, Oregon Trail, Doom, Prince of Persia, Donkey Kong, and Tetris, as well as a bunch of lesser-known (but still fun!) titles. You can also check out simulations of popular board games such as Monopoly, Stratego, Hearts, or Mah Jong, as well as flight simulators, sports games, and this treat for Monty Python fans!
---
For Future Scientists
Crash Course - Free courses in history, sociology, mythology and more

SciShow ​- Hank Green and friends delve into different science topics and discoveries
Animal Wonders Montana - Love animals? Follow Jessie as she introduces you to the animals they rescue, like Kemosabe the prehensile-tailed porcupine.